NC Statewide Conference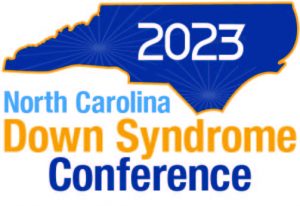 Saturday, April 22, 2023
8:30 am – 4:30 pm
Alamance Community College
1247 Jimmie Kerr Road, Graham, NC
Conveniently located off I-40/I-85 exit 150
View The Conference Schedule By Clicking Here

The North Carolina Down Syndrome Alliance (NCDSA) is proud to host the North Carolina Down Syndrome Conference. Held annually in the spring, the statewide conference brings together nationally and regionally recognized experts in their fields. Conference sessions cover diverse topics relevant across the lifespan of individuals with Down syndrome. Everyone who supports a person with Down syndrome and other intellectual disabilities is encouraged to attend.
Keynote address
Breakout sessions
Self-advocate track (age 16 and older) A full day of programming, skills building, and Karaoke
Networking opportunities
Exhibits and resources
Breakfast and catered lunch
2023 Keynote Session: A Life of My Own
Presented by: Jan Underwood and Austin Underwood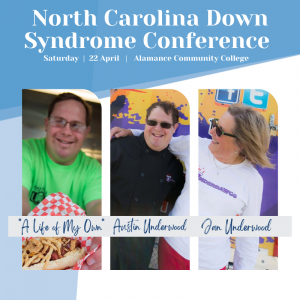 Austin Underwood has Down syndrome. He also had a dream of being a chef, but it wasn't an easy journey. After a tireless search for a vocational school that would accommodate Austin's needs, he was able to learn the skills to become a certified prep chef. Since then, he has successfully held a variety of positions in the restaurant industry. With help from his family (aka his Mom, Jan), Austin's Underdawgs launched in April 2016 selling "Dawgs" – hot dogs – which became an overnight success! Now six years later and a pandemic, Austin has sold more than 50,000 Underdawgs from his 32-foot Dawgmobile. Austin wants to show people that with a little support and training, anyone can grow to be a successful member of their community. Jan and Austin are committed to developing opportunities for individuals with intellectual differences. The story they share shows how at age 44, Austin is living proof of the power of living inclusively and having meaningful employment in the community.
Conference Funding
There are several resources to assist with the cost of attending the 2023 North Carolina Down Syndrome Conference.
North Carolina Council on Developmental Disabilities (NCCDD) Jean Wolff-Rossi Fund for Participant Involvement Fund – Rossi Funds are available to reimburse individuals for are variety of conference expenses.
NCCDD Rossi Fund
First in Families North Carolina (FIFNC) – Families or the individual must live in a county served by the FIF Chapter and must meet financial eligibility requirements. Contact your local FIF Chapter.
FIFNC Get Help
NC Innovations Waiver recipient family members may apply for Natural Support Education funding through their Local Management Entity/Managed Care Organization (LME/MCO).
Locate your LME/MCO
Breakout Sessions include:
Michele Mattox
Mental Health & Down syndrome –
Focusing on the Whole Person

Katie Frank, PhD, OTR/L
Is it Sensory or Behavior…
and can I change it?
Thank You To Our Gold Sponsors:

What attendees said about previous conferences?
As a retired educator, who has a daughter with Down syndrome, I've been to my share of conferences over the years. I can honestly say this is one of the best I have ever been Involved in. The speakers are excellent, very plain spoken, honest, and had great visuals. The information is very useful. And I am so thankful to finally see conferences that offer sessions on young adults/adults with Down syndrome, not just young children. After all, all of our children are going to age!
Thanks for planning and organizing this conference in these unprecedented times. It was great to listen to all the speakers about different topics. Thanks again for making this possible!
I look forward to this conference every year. Lots of great information, resources & presenters are very knowledgeable. Thank you to all who work hard to put this together.
I'm glad we have this resource. Thank you.