Ways to Give
The Benefactor Circle

The Benefactor circle was established to recognize those who provide a source of reliable, ongoing support for the work of the North Carolina Down Syndrome Alliance.  The club consists of a group of concerned individuals, corporations and foundations with a common commitment to the NCDSA's to empower, connect, and support the lifespan of individuals with Down syndrome, their families, and the community through outreach, advocacy, and education in North Carolina

The Benefactor commitments represent the cumulative total of gifts made to the NCDSA throughout the year.  These gifts can be given through a variety of vehicles, i.e. The Buddy Walk, The Annual Campaign,  Grants or Corporate Sponsorships.

All gifts that the NCDSA receives are valuable regardless of the amount.  The purpose of the Benefactor Circle is to recognize the faithful and generous contributions of our core stakeholders, who provide a significant portion of our resources each year to fuel our mission.

The participation levels are:
Impact Circle: Cumulative Gifts of $10,000 and above
Empowerment Circle: Cumulative Gifts of $5,000 to $9,999
Advocate Circle: Cumulative Gifts of $2,500-$4,999
T-21 Circle: $1,000-$2,499
NCDSA Legacy Society

What is the

NCDSA Legacy Society

?

The NCDSA Legacy Society

 is comprised of a group of committed supporters who are investing in the future of people with Down syndrome. These individuals and families have informed us of their intention to include the North Carolina Down Syndrome Alliance (NCDSA) in their estate plans.

Planned giving allows you to express your personal values by integrating your charitable, personal, and family financial goals to enhance your philanthropy and impact a qualified nonprofit organization.

By including the NCDSA in your gift planning, you will have the opportunity to make a lasting investment in the promising future of individuals with Down syndrome.  Through your legacy, you are sharing in the mission to serve both individuals with Down syndrome and the families of tomorrow.

How Do I Make a Legacy Gift to the NCDSA?
Including a gift to the NCDSA in your will provides essential resources that will shape the future of the NCDSA and ensure that we can fulfill our mission and vision for generations to come.

Three common options* for leaving a gift to the NCDSA include:
Bequest: The simplest and most frequent planned gift is a transfer of assets (cash, stock or bonds) to a nonprofit organization. An individual can specify a dollar amount or percentage to donate to the organization.
To make a bequest to the NCDSA, here is sample language you can use:

"I give, devise, and bequeath to the North Carolina Down Syndrome Alliance, P.O. Box 99562, Raleigh, NC 27624 the sum of $_________ (or otherwise describe the gift or specify a percentage of the residue of my estate) to be used for its general purposes."
Beneficiary of a "Special Needs Trust": Many families who have a loved one with Down syndrome will establish a "special needs trust" as a way to provide for their future. Families may select the NCDSA as the beneficiary of any remaining assets after the passing of their loved one. This serves as a way to both honor their child's legacy and give back to future generations of children served by the NCDSA.
Beneficiary Designation of Retirement Fund, IRA, etc.: Another easy way to make a planned gift is to name the NCDSA as a beneficiary of certain types of assets, i.e., life insurance plan, IRA, 401K, 403B, or another retirement instrument.  Leaving retirement assets to a charity as part of an estate plan can result in significant tax advantages, while also positively impacting the nonprofit of your choice. The amount can be a lump sum or a percentage.
Whatever your intentions are with regard to making a planned gift to the NCDSA, it is important that you consult an estate planning professional, such as a lawyer, tax accountant or financial planner. This is important so that you can communicate with them your desires and maximize the tax benefits available to you. They will be able to assist you in reviewing your unique circumstances and goals.

*There are many options for supporting the NCDSA through your estate plans. We encourage you to discuss the best options for you with a financial planner and/or lawyer who can review your unique circumstances and goals.
Sponsorship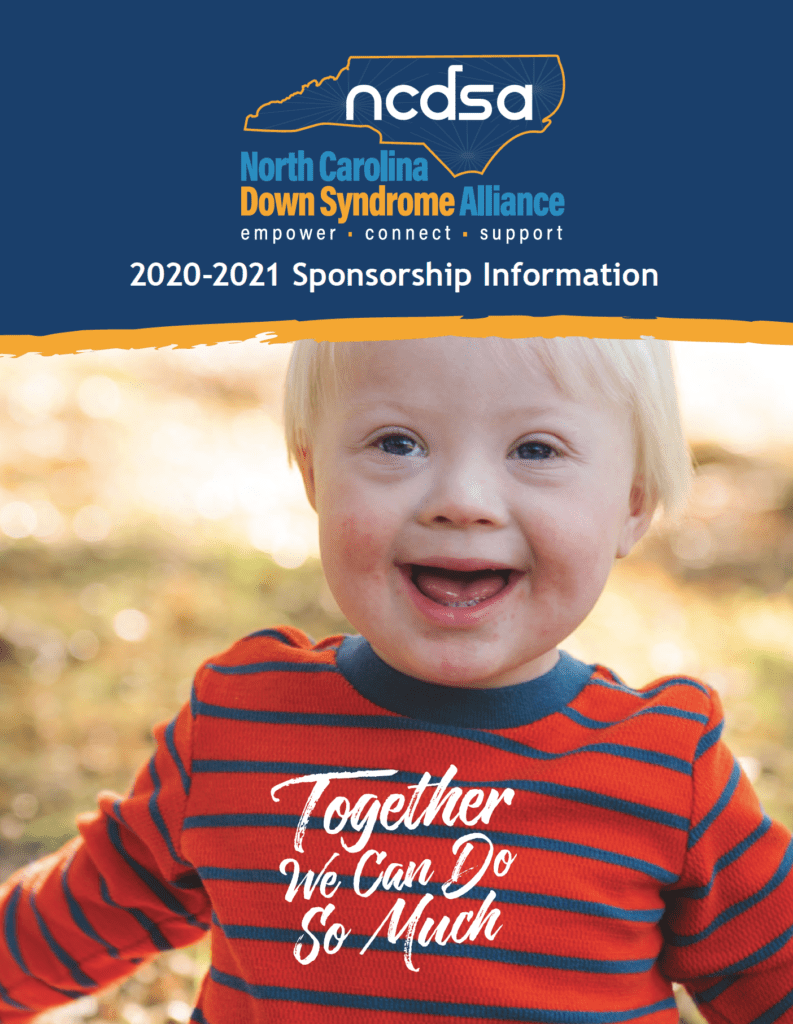 To those of you who have been Corporate Sponsors of the NCDSA,  THANK YOU!  You are accomplishing great things for people with Down syndrome and their families.  To those of you who are considering becoming one of our Corporate Sponsors, we hope that you will thoughtfully ponder one or more of our sponsorship opportunities.

For over 21 years the families, friends and neighbors of people with Down syndrome have been our primary supports! Your support has been instrumental to our success and we hope you will continue supporting the Down syndrome community.

The North Carolina Down Syndrome Alliance will host a variety of events in the coming year all around the state.  Our events attract long-time supporters, new families and friends as well as many people, who have merely been touched by an individual with Down syndrome and want to express their loyalty.  Our Sponsorship Information Packet details the upcoming events and sponsorship opportunities.

Some of our Corporate Sponsors choose to sponsor one particular event, while other companies choose a multifaceted sponsorship package.  We are also open to creative conversations about possible in-kind donations of goods or services that your company might be able to provide to NCDSA.

For more information about  sponsorship contact NCDSA at (984) 200-1193 or info@ncdsalliance.org.
In Honor or Memorial Giving

Making a gift in honor or in memory of someone you care for is a touching way in which someone can support the work of the NCDSA.  We appreciate your desire to give to the NCDSA in honor or in memory of a loved one.

The fastest and easiest way to make this kind of a gift is through our website.  Just click the DONATE NOW button, then on the 'Honor / Memorial' dropdown, and select an option.  From there, you will see required fields to fill out related to this gift.

To further discuss In Honor or Memorial gifts, contact Christina Reaves, at christina@ncdsalliance.org or (984) 200- 1193.
In-Kind Gifts

The NCDSA is very appreciative each year to receive substantial in-kind goods and services for its events and operations.  These donations greatly impact the stewardship of the NCDSA's resources, since many of these items would otherwise require payment in order to satisfy the needs of our programs.

Examples of in-kind goods and services include:
Designing, Printing, and event signage
Unique items for auctions, raffles and gift bags
Food and/or beverage donations to be enjoyed at an event
If you and/or your company have access to items or services that could alleviate costs associated with the operations of our events and programs, please contact Christina Reaves at christina@ncdsalliance.org or (984)200-1193.
Matching Gifts

A great option for many people to leverage their giving for an even greater impact is through corporate matching gifts.  Many corporations have matching gift programs and will match your donation to an accredited charitable organization.  It's an easy way to double or even triple the impact of your personal contribution to the NCDSA.

Here's how to make a matching gift: Check with your human resources department to find out whether your company has a matching gift policy.  If so, your employer will usually provide a form for you to fill out and send to us with your donation.  We will verify your gift and return the form to your company, which will then issue a matching gift contribution directly to the NCDSA.

Please send gifts and all forms to:
North Carolina Down Syndrome Alliance
P.O Box 99562
Raleigh, NC 27624
Thank you in advance for checking to see if this is an option with your employer!
321 Monthly Giving Program

One of the NCDSA's goals is to expand and diversify our funding streams and to build a solid base of support for the work we do for the months and years to come.  In order to accomplish that, we need a team of committed ongoing supporters, who make consistent and recurring gifts, so that we have a solid foundation of support upon which to build.

By making recurring gifts to an organization you are passionate about, like the NCDSA, you are making us a part of your everyday life, just like getting your morning coffee becomes a natural part of your routine. By making these regular gifts, often people can more fully express their support in a way they might not have thought possible.  While monthly gifts of $25, $50 or $100 are practical within many household budgets, they add up quickly to become a significant amount for our organization over the course of a year and beyond.

To set up a recurring monthly donation, just click the DONATE NOW button.  After you enter your monthly donation, click the 'Repeat this Donation' box and enter how many months you would like to repeat the donation.
Passive Fundraisers

Passive fundraisers are great examples of how you can contribute to the NCDSA without donating a dime! Here are some great examples of available passive fundraisers.

smile.amazon.com

Do you shop on Amazon?  Did you know that Smile.Amazon.com is the exact same store as Amazon.com?  The difference is you can pick NCDSA as your charity of choice and a portion of every sale is donated to the organization!

Facebook Fundraisers
A great way to communicate with your friends and family that you are fundraising for the North Carolina Down Syndrome Alliance is online!

You can also start a fundraiser on Facebook and 100% of the money that is raised is sent straight to NCDSA.

Contact our Executive Director, Christina Reaves, if you have any questions or need support starting your online fundraiser! 984-200-1193 or christina@ncdsalliance.org
Dress Down for Down Syndrome

Your business or child's school can get involved by hosting a "Dress Down" day on World Down Syndrome Day (March 21),  during Down Syndrome Awareness Month in October, or whenever you choose. Dress Down Day is where the participant donates to NCDSA to be able to dress down with jeans, crazy socks, a hat, pajamas, whatever creative thing they come up with! Check with your work or school today to see if they would like to participate in this fun Down Syndrome Awareness Event.

NCDSA will provide small posters and Dress Down stickers upon request.
Fundraise for NCDSA

Year after year, the NCDSA  community steps up to support our programs and events through traditional fundraising, monetary donations, and volunteer time.  It never ceases to amaze us just how generous and dedicated our supporters are.  In addition to these vital contributions, our supporters have continued to come up with new and creative ways to raise funds, items, and awareness for the Down syndrome community.

Thank you for all you do for the North Carolina Down Syndrome Alliance!

Third Party Fundraising Events
Considering planning an event to benefit the NCDSA?  THANK YOU!  We are so appreciative! For your convenience, we have put together some guidelines, tips, and tricks to help you plan your event!
Contact Christina Reaves at christina@NCDSAlliance.org or (984) 200-1193 for more information.