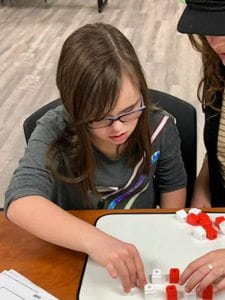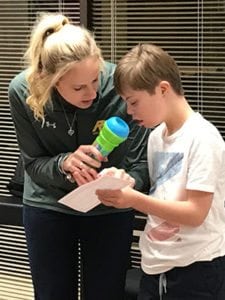 The Learning Program™
What is The Learning Program?
The Learning Program is a ten month program that uses effective researched based teaching strategies and customized materials to support families of children with Down syndrome in the educational process. The Learning Program complements formal instruction in literacy and math, with occupational and speech therapy components.
Although there are a variety of delivery models, North Carolina Down Syndrome Alliance will provide monthly virtual  instructional sessions for parents and students on a range of educational topics and distribute home-use materials.
During non-Covid times, direct instruction to parents and students is provided with emphasis on literacy, math, language, fine motor, and social skills.  To comply with State regulations, we are pivoting this year to provide new and improved online learning experiences directed towards parents and teachers.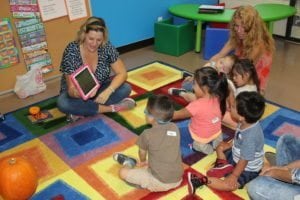 "I would absolutely recommend and encourage participation in LP. It has set the foundation for all of J's past, current and future learning. It has empowered me (a non-teacher) to adapt and/or modify work in a way that is effective, meaningful and beneficial for J. It has also inspired me to continue to set the bar high, not only for J, but the professionals working with him – to seek out best practices and think outside the box in their teaching."
— Lisa F
Parents must commit to attending all sessions.
Class
Description
LP Online Level 1

(Preschool to 1st grade, roughly ages 30 months to 6 years)

Focuses on supporting development of literacy skills (vocabulary development, sight work acquisition, sentence building and phonemic awareness), and math skills (early number concepts to 20, color shape, sorting, patterning and time).  It also addresses general topics such as educational options, fostering independence, effective learning sessions and memory.
Learning Program Online™ Level 1 will include:
10 live learning sessions
10 pre-recorded sessions for self-paced viewing
Access to a private LP Online™ Facebook page
Weekly live FB Live demonstration videos
Weekly live Zoom Q & A Sessions
Downloadable resources related to literacy, math and each session's topic
Here is additional information for your consideration:
Enrollment in the program is limited.
Each class will meet online once a month from September through June for 2 hours.
NCDSA will provide 10 Free Learning Program Books and will offer free resources to download from the LP Online Portal. Additionally, we encourage you to purchase the additional set of reading resources at a discounted rate.
The Learning Program cost is $350/ participant. NCDSA is proud to provide this program free of charge to our families that commit to complete the entire program. A deposit of $50 is required to hold your spot for the entire session. If you attend all sessions you will receive your deposit back. If you need financial assistance please email mahala@ncdsalliance.org.