NC Down Syndrome Advocacy Day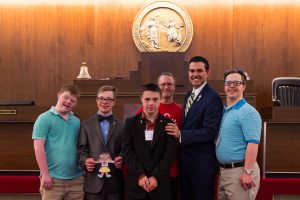 Join members of the greater Down syndrome community from across North Carolina in the Capital City for the Annual Down Syndrome Advocacy Day.
Down Syndrome Advocacy Day is your opportunity to improve the lives of people with Down syndrome and their families. You will:
Learn about the legislative process and how you can be involved
Practice your skills to communicate with legislators
Share your lived experience with legislators who create policies that directly impact people with Down syndrome
Tuesday, May 24th
North Carolina Museum of History
Demonstration Gallery Meeting Room
Bicentennial Plaza
5 E Edenton St, Raleigh, NC 27601
Advanced registration required. Online registrations closes May 22nd
We will meet at the North Carolina Museum of History, located directly across the street from the North Carolina Legislative Complex.
Down Syndrome Advocacy Day includes:
Registration starting at 9:00am
Advocacy Day Training Sessions 9:30am – 10:30am or 11:30am – 12:30pm (times subject to change)
Legislative process
Routine legislative day
Navigating the legislative complex
Why build relationships with legislators
Importance of sharing your personal story
Reviewing your personal story
Meeting with your legislators
Share your personal story
Distribute general information about Down syndrome
North Carolina Down Syndrome Advocacy Day Partners: