Triangle
i

Can Bike Camp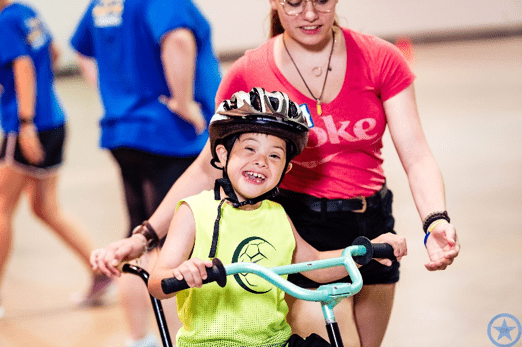 iCan Bike uses adapted bicycles, a specialized instructional program and trained staff to enable individuals with disabilities to learn to ride a two-wheel bicycle. Riders attend one 75 minute session each day for five consecutive days where they learn to ride while accompanied and encouraged by volunteer "spotters". Over the course of the week, the bike camp staff continually adjusts the bikes in an effort to challenge riders balance as they gradually discover the skill and joy of riding.
Parents, teachers and therapists describe our results as 'amazing'. Many of our riders have tried for years to learn to ride a bike without success. In one week, approximately 80% of riders will learn to independently ride a two-wheel bicycle. The remaining 20% make tremendous progress towards that goal.
Riders are children ages eight and up as well as teens and adults who have a diagnosed disability and are able to sidestep and walk without assistive devices. Success in learning to ride a bicycle is a major milestone in anyone's life. When learning has been a struggle, the accomplishment and its impact is much greater.
We observe that learning to ride a bicycle infuses the rider with confidence and an improved self-image that has a positive ripple effect into many other aspects of their lives. Their families benefit in many ways and volunteers are positively impacted by the experience as well.
"Our son came to the iCan bike camp without ever having rode a bicycle. He wasn't even peddling when he came in. He leaves this camp with confidence and a brand new two wheeled bicycle that he can ride independently." -M.M. Mom of a 2019 participant.
Mandatory Requirements for acceptance into the camp:
Minimum age – 8 years old
Able to sidestep to both sides
Have a disability
Able to attend camp all 5 days
Able to walk without assistive device
Maximum weight 220 lbs.
Willing and able to wear a properly fitted bike helmet
Minimum inseam of 20" (measure from floor while rider is wearing sneakers)
NOTE: Dropping-off Riders at the program is not permitted. A parent, legal guardian or other adult authorized to take responsibility for the Rider (e.g. another parent) must remain on site for the duration of the 75-minute program.
Camp Overview
Sunday
Floor Supervisor and Bike Technician conduct an orientation with parents (riders should not attend) for about 20 – 30 minutes about camp and purchasing an appropriate bicycle.
Monday – Day #1
Check-in includes ensuring all riders and volunteers have a name-tag and riders have a properly fitting bike helmet
Parents can watch riders during the session from the upstairs track area
Parents may begin to bring rider bikes for assessment by Bike Technician beginning Monday (Day #1) through no later than Thursday (Day #4)
Tuesday – Day #2
All riders will have an opportunity to ride on our tandem bike with our Bike Technician for assessment of skills and to provide rider with a motivational simulation as to what riding a bike feels like
Wednesday – Day #3
Riders who the Floor Supervisor believes are ready to ride a conventional two-wheel bike will be given opportunity by Floor Supervisor (generally approximately 25% of riders)
Thursday – Day #4
Riders who the Floor Supervisor believes are ready to ride a conventional two-wheel bike will be given opportunity (generally approximately 50% of riders)
Friday – Day #5
Rider's family members may be trained on how to properly spot their rider for post camp riding, if warranted
Most, if not all, riders begin riding the bike their family brought to camp to get comfortable riding it (same bike riders will ride after camp)
Floor Supervisor will ensure that 100% of riders have been provided with an opportunity to ride a two-wheel bicycle unless safety is a concern
Each of the five 75-minute sessions end 5 minutes early to enable the Camp Director to conduct an awards ceremony for all riders, parents and volunteers in attendance