NORTH CAROLINA DOWN SYNDROME ORGANIZATIONS BAND TOGETHER TO DEMAND INDIVIDUALS WITH DOWN SYNDROME BE PRIORITIZED IN THE STATE'S VACCINE PLAN.
PRESS RELEASE
RELEASE DATE: February 3, 2021
NC DOWN SYNDROME ORGANIZATIONS DEMAND VACCINE PRIORITZATION
Vaccine Priority Group 4 is unacceptable and places at-risk lives in unnecessary jeopardy.
Raleigh, NC —North Carolina Down Syndrome Organizations band together to demand individuals with Down syndrome be prioritized in the State's Vaccine Plan.
A consortium of Down syndrome organizations in the State of North Carolina lead by the NCDSA, includes Down Syndrome Association of Greater Charlotte, Down Syndrome Association of Greater Greensboro, Down Syndrome Association of Greater Winston-Salem, Down Syndrome Network of Onslow and Carteret Counties, Coastal BUDS, and Western NC Down Syndrome Alliance, met Tuesday morning to address the inequitable access of vaccines for individuals with Down syndrome. They developed a plan to educate Dr. Mandy Cohen and Governor Roy Cooper on the impact of the current vaccine priority plan. Multiple studies show that individuals with Down syndrome are at increased risk for COVID-19–related hospitalizations and a 10-fold increased risk for COVID-19–related deaths. To date people with Down syndrome are a group that is currently not strategically protected.
People with Down syndrome are being placed in jeopardy
Individuals with Down syndrome were initially included in Group 2 for vaccine priority. However, with the recent restructuring of the priority list, individuals with Down syndrome have moved into Group 4, placing them back in unnecessary jeopardy.
Increased Risk for Exposure
Many adults with Down syndrome do NOT qualify for priority under Group 1 because they do not reside in Long Term Care settings. A majority live in the family home (with aging parents) and rely on both paid and unpaid personal direct care staff for support. Direct Care Staff typically have more than one client, travel freely in the community, and therefore, increase the risk of exposure of COVID-19 to the individuals with Down syndrome they serve.
Increased risk for hospitalization and critical care
Additionally, the number of adults with Down syndrome living in North Carolina who anticipate receiving the vaccination would not put an undue burden on our healthcare system.  However, the increased risk of individuals with Down syndrome having severe complications will impact the healthcare system by requiring hospitalization and critical care. Research has shown this will lead to poor healthcare outcomes and higher rates of mortality.
The NCDSA is a comprehensive resource 
The North Carolina Down Syndrome Alliance is an effective, compassionate, and comprehensive resource on Down syndrome throughout North Carolina. NCDSA envisions a culture in which all people with Down syndrome are empowered to achieve their full potential and live healthy, productive lives as valued citizens within the fabric of society. Our mission is to empower, connect, and support the lifespan of individuals with Down syndrome, their families, and the community through outreach, advocacy, and education in North Carolina. For more information, please visit www. ncdsalliance.org
Join our fight for equitable vaccine prioritization TODAY!
###
CONTACT INFORMATION:
North Carolina Down Syndrome Alliance
Christina Reaves
984-200-1193
christina@ncdsalliance.org
Prioritization letters to Governor Roy Cooper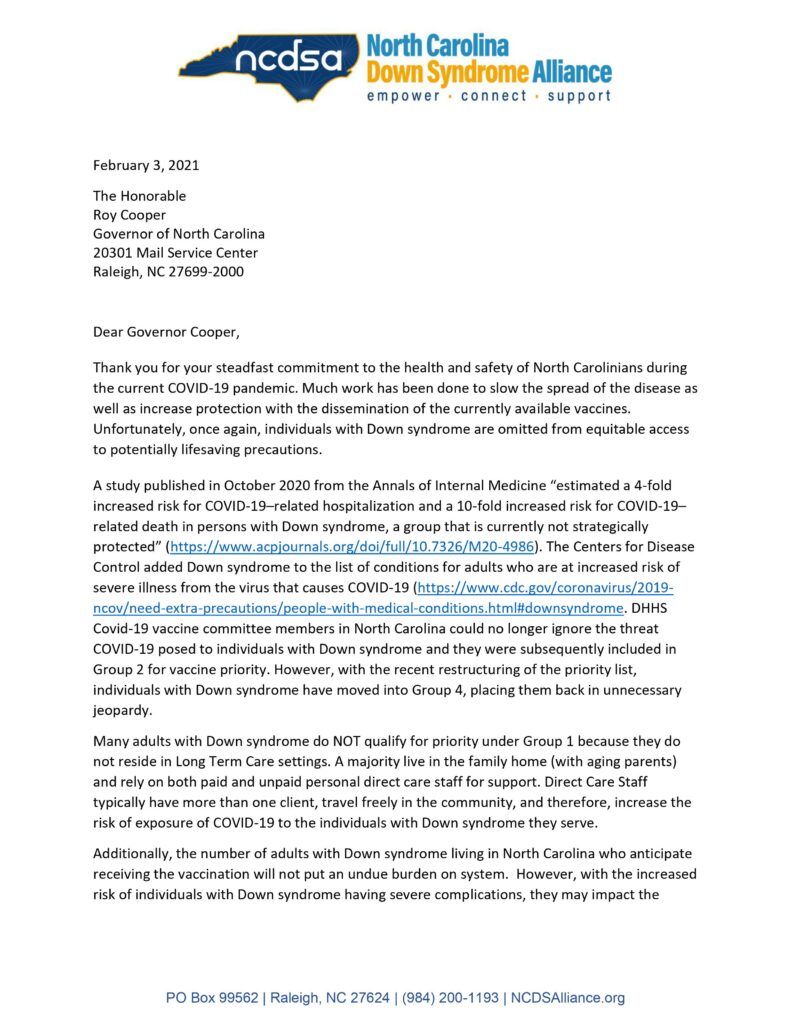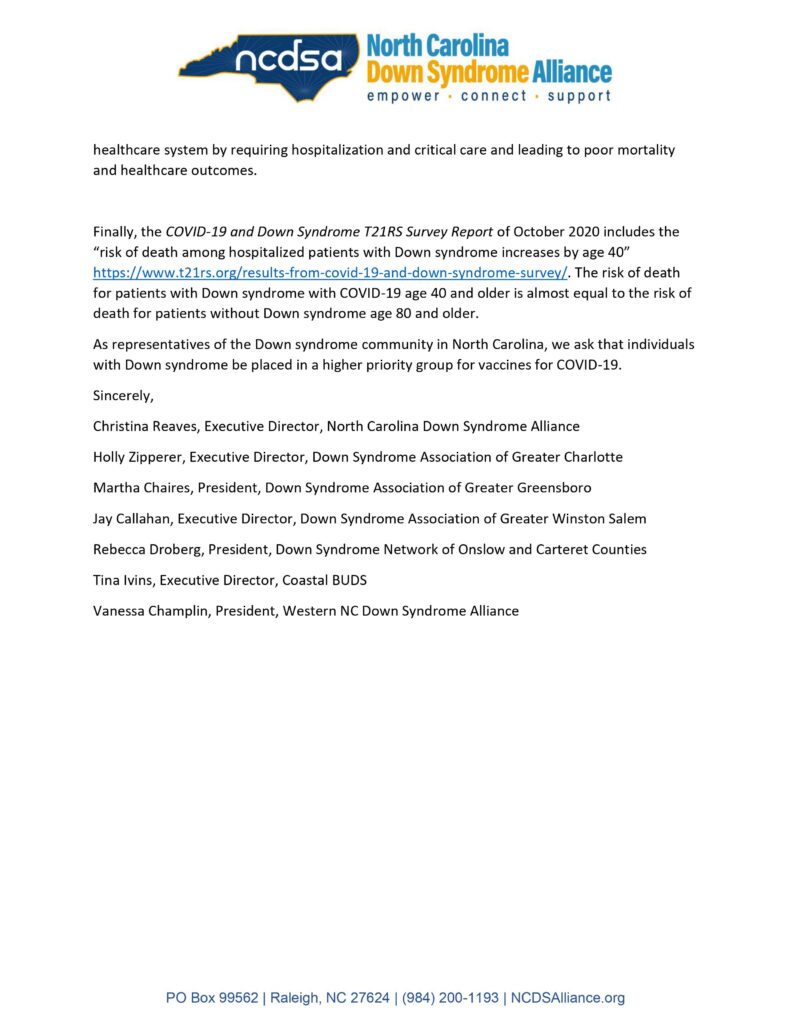 Prioritization letters to Dr. Mandy Cohen